Richard Alles
Retired Deputy Chief F.D.N.Y., Uniformed Fire Officers Association L-854, IAFF, AFL-CIO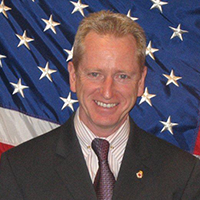 Rich was appointed to the FDNY in 1979 and served in Engine 91 and Ladder 43 in Spanish Harlem. Upon promotion to Lieutenant in 1987, he was briefly assigned to lower Manhattan and later transferred to Ladder 174 in East Flatbush, Brooklyn. Rich was promoted to Captain in 1993 and was assigned to Ladder 106 in Greenpoint, Brooklyn. Upon promotion to Battalion Chief in 1999 Rich was assigned to FDNY Headquarters and worked on the Department's Operational Millennium Plan. Rich was rewarded for his efforts by then Chief of Department Peter Ganci with a transfer to Battalion 58 in Canarsie, Brooklyn in 2000. He was designated Battalion Commander in 2005 and served until his promotion to Deputy Chief in 2007. Rich has always been actively involved in his labor union, the Uniformed Fire Officers Association, and has assisted the organization in different roles until deciding to seek an open Chiefs Representative position on the UFOA Executive Board in 2007. Upon winning his election, Rich has served in various additional titles such as Sergeant at Arms and Financial Secretary. He is was the UFOA Recording Secretary and the National Legislative Director. Rich was asked by his local President, Al Hagan at the time, to represent L-854 and to work with Firefighters L-94, the AFL-CIO, and the IAFF to lobby and gain passage of the 9/11 Health and Compensation Act (Zadroga bill), which covers all IAFF brothers and sisters who were exposed in the weeks and months after September 11, 2001. The law was passed on 12/22/10 and became effective on 7/1/11. Rich retired from the Fire Department and the UFOA in 2016.Rich is a graduate of St. John's University with a BS in Criminal Justice. He continues his education by attending labor courses at Cornell University as well as the International Association of Firefighters Training Academy. Rich resides in Jackson Heights, Queens with his wife Dinah. They have been married for 27 years. Their daughter Meghan attends Massachusetts College of Pharmacy and Health Sciences in Boston, and is a 5th year student in a six year Masters PA program.
On September 11, 2001 Rich responded to the WTC as part of an FDNY Brooklyn staffing contingent twenty minutes after the second collapse. At the time, he held the rank of Battalion Chief. His assignment entailed the supervision of search and rescue units for the entire first two weeks of the operation.
After that the FDNY went on a rotation system for its members and he performed supervisory functions in various assignments during his scheduled rotation.
After the operation was changed to a recovery mission he supervised during the month of March 2002 in which his team made over 80 recoveries helping bring some closure to the affected families. He has never considered himself a hero for any 9/11 work. The true hero's perished on that day, as well as those that continue to die as a result of their work at the site.
"I was just doing my job like everyone else during that period." He is proud, however, of his labor role in helping to achieve passage of the James Zadroga 9/11 Health & Compensation Act.
He will be forever grateful to the NY Congressional Delegation and Senators Gillibrand and Schumer for all they did as well.