9/11 Memorial Glade: a monument for ill and injured 9/11 responders, survivors and their families
On May 30th of 2019, the National September 11th Memorial and Museum opened the 9/11 Memorial Glade dedicated to the
…hundreds of thousands—responders and survivors, workers and residents—were exposed to hazards and toxins in the air at and around the World Trade Center site, resulting in chronic illnesses and the deaths of thousands. Responders and workers at all three attack sites, including the Pentagon and in Shanksville, Pennsylvania, have been affected. For the injured, sick, and dying, and for their families and friends, 9/11 has remained an all-too-present reality. The 9/11 Memorial Glade is dedicated in their honor.
The effort to create a Memorial to those injured and made ill by the toxins at Ground Zero was started by Manhattan Borough President Gale Brewer along with the sponsors of the James Zadroga 9/11 Health and Compensation Act, U.S. Rep. Carolyn B. Maloney, U.S. Rep Jerrold Nadler, U.S. Senator Kirsten Gillibrand, U.S. Senator Chuck Schumer, local residents, first responders, organized labor, and other elected officials to work on establishing a monument to 9/11 Responders and Survivors who have been sickened, injured and some dying from their exposure to toxins at Ground Zero.
In May of 2018 those efforts succeeded when the National 9/11 Memorial and Museum announced that in order to build greater awareness about this unabating health crisis facing so many 9/11 responders and survivors, it will take make a permanent and substantial modification to the 9/11 Memorial intended to recognize everyone who is suffering from 9/11-related diseases.
You can view the memorial here.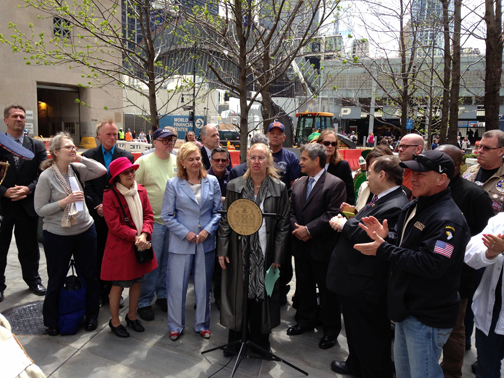 ---
Documents
Committee Plan
May 2, 2014
---
Committee to Establish a Monument to 9/11 Responders and Survivors
(Committee in formation)
Co-Chairs
Gale Brewer, Manhattan Borough President
Mario Cilento, President, New York State AFL-CIO
U.S. Sen. Chuck Schumer
U.S. Sen. Kirsten Gillibrand
Rep. Carolyn B. Maloney
Rep. Jerrold Nadler
N.Y. County District Attorney Cyrus Vance, Jr.
N.Y. State Assembly Speaker Sheldon Silver
N.Y. Senator Daniel Squadron
N.Y.C. Councilmember Margaret Chin
New Jersey State AFL-CIO; Charles Wowkanech, President
New York City Central Labor Council; Vincent Alvarez, President
New York City Building & Construction Trades Council; Gary LaBarbera, President
Uniformed Fire Officers; Al Hagan, President
Uniformed Fire Fighters; Steve Cassidy, President
Patrolmen's Benevolent Association; Pat Lynch, President
Sergeants Benevolent Association; Ed Mullins, President
New York Ironworkers District Council; Ed Walsh, President
District Council 37, AFSCME; Lillian Roberts, Executive Director
TWU Local 100; John Samuelsen, President
John Feal, 9/11 responder, President & Founder, FealGood Foundation
Kimberly Flynn, Chair, WTC Health Program's Survivors Steering Committee, local worker
Rob Spencer, Member and former Labor Co-Chair, WTC Health Program Survivors Steering Committee
Catherine McVay-Hughes, local resident and Chair, Community Board 1